Energy Jelly Beans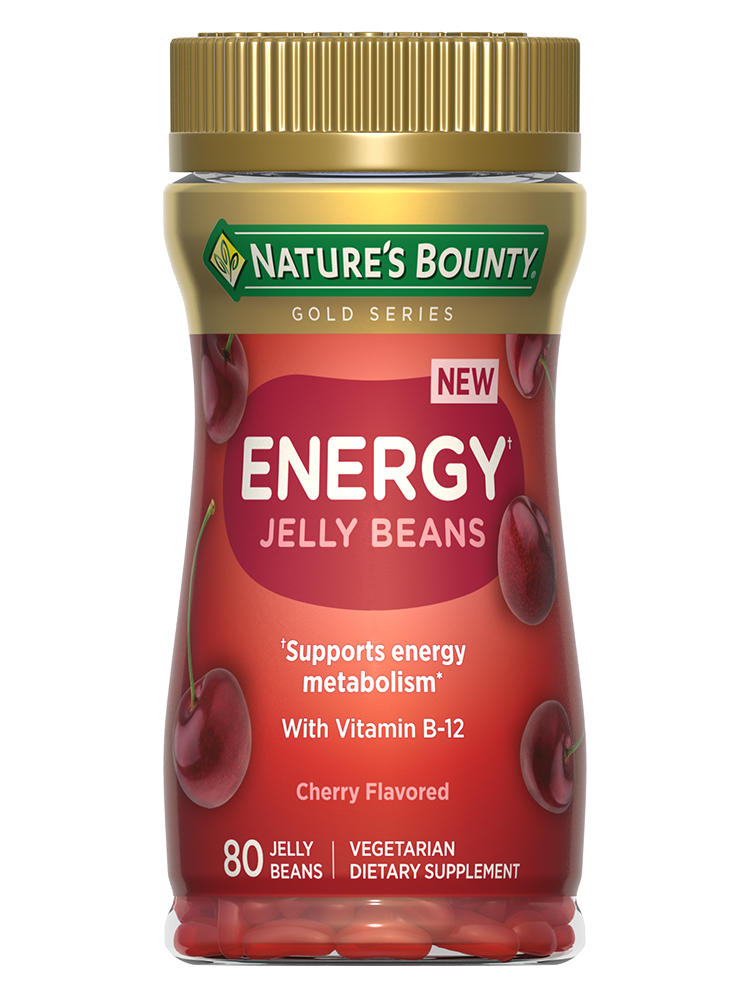 Energy Jelly Beans
80 / 120
Need a fun and enjoyable way to support energy? Support your body's energy metabolism with NEW Nature's Bounty Energy Jelly Beans!* The sweet, cherry-flavored formula contains Vitamin B12 which is designed to help your body convert food into cellular energy so you can continue to conquer the day, one juicy jelly bean at a time.* For added benefits, Nature's Bounty Energy Jelly Beans are gelatin-free, making them suitable for vegetarians. Plus, they're NON-GMO, contain naturally sourced colors and free of artificial flavors and sweeteners. See what the buzz is all about by making Nature's Bounty Energy Jelly Beans part of your wellness routine.*
Description & Benefits
Ingredients
Reviews
Need a fun and enjoyable way to support energy? Support your body's energy metabolism with NEW Nature's Bounty Energy Jelly Beans!* The sweet, cherry-flavored formula contains Vitamin B12 which is designed to help your body convert food into cellular energy so you can continue to conquer the day, one juicy jelly bean at a time.* For added benefits, Nature's Bounty Energy Jelly Beans are gelatin-free, making them suitable for vegetarians. Plus, they're NON-GMO, contain naturally sourced colors and free of artificial flavors and sweeteners. See what the buzz is all about by making Nature's Bounty Energy Jelly Beans part of your wellness routine.*
DIRECTIONS: For adults, take four (4) jelly beans daily, preferably with a meal. Chew thoroughly before swallowing.
Supplement Facts
Serving size 4 Jelly Beans
Amount Per Serving
% Daily Value
VitaminB-6 (as Pyridoxine Hydrochloride)
Folate
116 mcg DFE (100 mcg folic acid)
42%
Vitamin B-12 (as Cyanocobalamin)
Pantothenic Acid (as Calcium d-Pantothenate)
**Percent Daily Values are based on a 2,000 calorie diet.
***Daily Value not established.
Other Ingredients: Sugar, Glucose Syrup, Modified Potato Starch. Contains <2% of: Citric Acid, Natural Flavors, Natural Palm Leaf Glaze, Vegetable Concentrate (color), Vegetable Oil.
WARNING: f you are pregnant, nursing, taking any medications, have any medical condition, or are planning to undergo any clinical lab testing, consult your doctor before use. Some supplements may interact with certain medications and/or interfere with certain lab tests. If any adverse reactions occur, stop use and consult your doctor. Keep out of reach of children. Store at room temperature. Do not use if seal under cap is broken or missing.
Non-GMO, No Artificial Flavor, No Artificial Sweetener, No Milk, No Lactose, No Soy, No Yeast, No Fish. Sodium Free. Suitable for Vegetarians
Carefully Manufactured by NATURE'S BOUNTY, INC.Bohemia NY 11716 U.S.A © 2023 Nature's Bounty, Inc
Innovation, Quality & Commitment
We want more for you. Which is why we never settle when it comes to making wellness solutions that work harder, are formulated to be stronger, and protect you longer.
We give you more so you live more.
MORE INNOVATIONΔ
Immune 24, Sleep3 & innovative wellness solutions for the whole family
MORE PRODUCTS FOR YOUR CORE NEEDSΔ
Support for what matters most—from sleep to stress comfort to digestive and heart health*
MORE THAN 50 YEARS OF EXPERTISE
Half a century of innovation with the help of quality scientists and researchers
MORE INGREDIENT TESTS
That's every single month. We test and retest to bring you potent and efficacious ingredients, guaranteed