Immune 24 Hour + Effervescent Powder Packs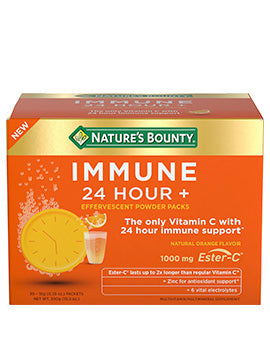 Immune 24 Hour + Effervescent Powder Packs
1000 mg of Ester-C, 30 Powder
Nature's Bounty Immune 24 Hour + Effervescent Immune Support Supplement Powder Packs include powerful Ester-C to give you around-the-clock support plus Zinc, Vitamin B and electrolytes.* Made with a non-GMO formula, this gluten free supplement has no artificial flavors or sweeteners. Each serving of this supplement includes 1,000 mg of Ester-C, which stays in the white blood cells – an important component of the immune system – for up to 24 hours, which is longer than regular Vitamin C.* This immune supporting supplement also includes six vital electrolytes and six essential B vitamins to aid in the conversion of food to energy.* Additionally, Nature's Bounty Immune 24 Hour + Effervescent Powder Packs include Zinc to provide antioxidant support.* Adults can dissolve this delicious orange-flavored powder in 4-6 fluid ounces of water and stir or shake to dissolve. When mixed with water, our formula provides adequate hydration and vital electrolytes which are essential to function at your very best.*
Description & Benefits
Ingredients
Reviews
Nature's Bounty Immune 24 Hour + Effervescent Immune Support Supplement Powder Packs include powerful Ester-C to give you around-the-clock support plus Zinc, Vitamin B and electrolytes.* Made with a non-GMO formula, this gluten free supplement has no artificial flavors or sweeteners. Each serving of this supplement includes 1,000 mg of Ester-C, which stays in the white blood cells – an important component of the immune system – for up to 24 hours, which is longer than regular Vitamin C.* This immune supporting supplement also includes six vital electrolytes and six essential B vitamins to aid in the conversion of food to energy.* Additionally, Nature's Bounty Immune 24 Hour + Effervescent Powder Packs include Zinc to provide antioxidant support.* Adults can dissolve this delicious orange-flavored powder in 4-6 fluid ounces of water and stir or shake to dissolve. When mixed with water, our formula provides adequate hydration and vital electrolytes which are essential to function at your very best.*
DIRECTIONS: For adults, pour packet into 4-6 fl. oz. of water once daily. Stir or shake.
Supplement Facts
Serving size 1 Packet
Servings Per Container 30
Amount Per Serving
% Daily Value
Vitamin C (as Ester-C Calcium Ascorbate)
Thiamin (Vitamin B-1) (as Thiamin Hydrochloride)
Vitamin B-6 *as Pyridoxine Hydrochloride)
Folate
20 mcg DFE (12.5 mcg folic acid)
5%
VItamin B-12 (as Cyanocobalamin)
Pantothenic Acid (as d-Calcium Pantothenate)
Calcium (as Ester-C Calcium Ascorbate, Calcium Carbonate and Dicalcium Phosphate)
Phosphorus (as Potassium Phosphate and Sodium Phosphate)
Magnesium (as Magnesium Hydroxide and Magnesium Carbonate)
Manganese (as Manganese Gluconate)
Chromium (as Chromium Ascorbate)
Chloride (as Sodium Chloride)
Sodium (as Sodium Chloride, SOdium Phosphate and Sodium Bicarbonate)
Potassium (as Potassium Phosphate and Potassium Bicarbonate)
Botanical (Bioflavonoid) Health Proprietary Blend Stevia Extract (Stevia rebaudiana)(leaf), Quercetin (Sophora japonica)(flower), Alpha Lipoic Acid, Glycine, L-Aspartic Acid
**Percent Daily Values are based on a 2,000 calorie diet.
***Daily Value not established.
Other Ingredients: Fructose, Maltodextrin, Malic Acid, Citric Acid. Contains <2% of: Beta-Carotene (for color), Natural Orange Flavor, Silica, Vegetable Cellulose.
WARNING: If you are pregnant, nursing, taking any medications or have any medical condition, consult your doctor before use. Discontinue use and consult your doctor if adverse reactions occur. Not intended to be used by persons under the age of 18.Keep out of reach of children. Store at room temperature. Do not use if packet is torn or open.
No Artificial Flavor, No Artificial Sweetener, No Milk, No Lactose, No Soy, No Gluten, No Wheat, No Yeast, No Fish. Suitable for Vegetarians
Carefully Manufactured by NATURE'S BOUNTY, INC.Bohemia NY 11716 U.S.A © 2023 Nature's Bounty, Inc
Innovation, Quality & Commitment
We want more for you. Which is why we never settle when it comes to making wellness solutions that work harder, are formulated to be stronger, and protect you longer.
We give you more so you live more.
MORE INNOVATIONΔ
Immune 24, Sleep3 & innovative wellness solutions for the whole family
MORE PRODUCTS FOR YOUR CORE NEEDSΔ
Support for what matters most—from sleep to stress comfort to digestive and heart health*
MORE THAN 50 YEARS OF EXPERTISE
Half a century of innovation with the help of quality scientists and researchers
MORE INGREDIENT TESTS
That's every single month. We test and retest to bring you potent and efficacious ingredients, guaranteed