Advanced Vitamin D3 with Magnesium Citrate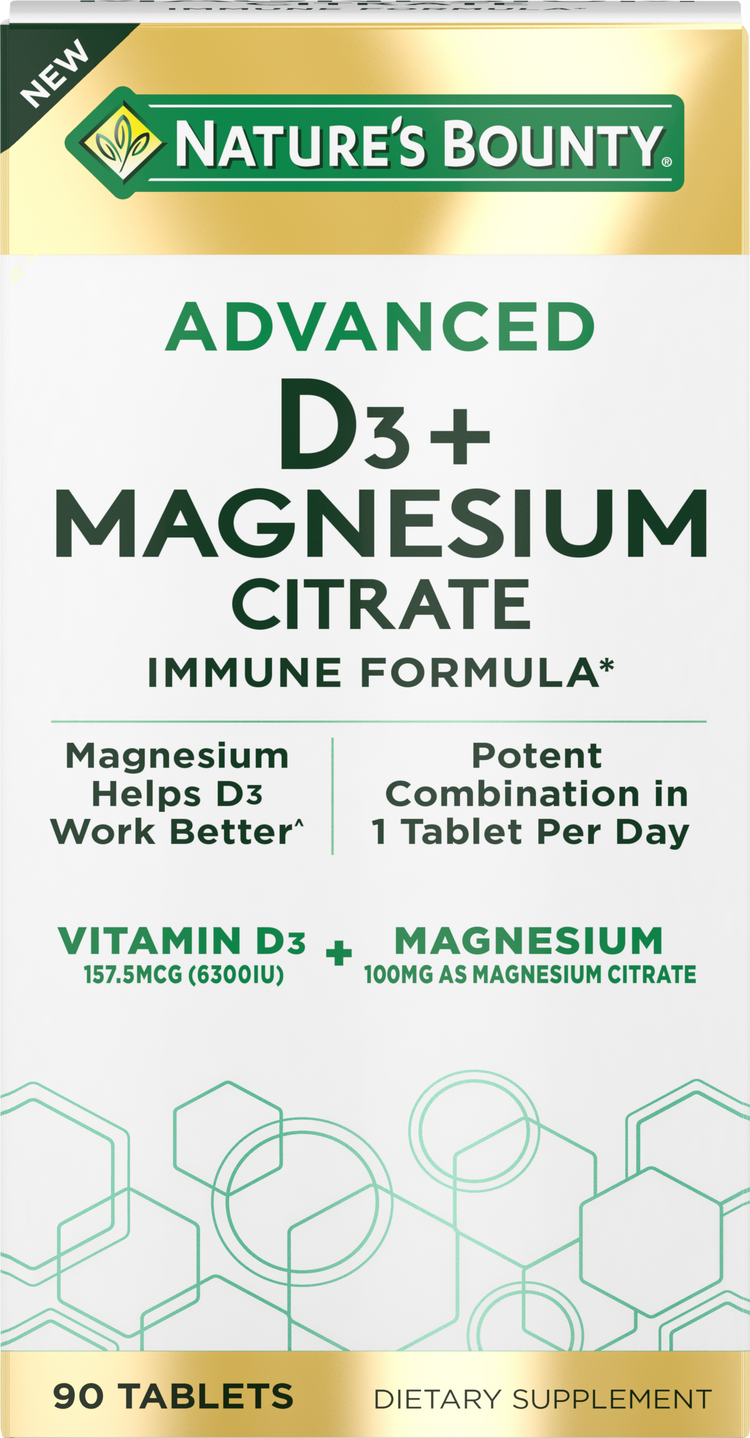 Advanced Vitamin D3 with Magnesium Citrate
Vitamin D3 157.5 mcg | Magnesium 100 mg, 90 Tablets
Support your immune health with Nature's Bounty Advanced D3 + Magnesium Citrate Immune Formula.*
Description & Benefits
Ingredients
Reviews
Support your immune health with Nature's Bounty Advanced D3 + Magnesium Citrate Immune Formula.* Containing a potent combination of Magnesium and Vitamin D, our innovative two-in-one formula utilizes the superior forms of each  – Vitamin D3 and Magnesium Citrate – for better absorption and bioavailability. ◊ Magnesium assists with converting Vitamin D to its active form, which helps to support a healthy immune system.* It is also an important bone health supplement, playing a key role in the body's muscular reactions and cellular energy metabolism. * Vitamin D supports immune health and is vital for neuromuscular health and function, bone health, and exercise recovery.* Each tablet of Nature's Bounty Advanced D3 + Magnesium Citrate provides 6300 IU of Vitamin D3, plus 100 mg of Magnesium as Magnesium Citrate to help optimize Vitamin D levels.* For those with specific dietary and lifestyle needs, Nature's Bounty Advanced D3 + Magnesium Citrate Immune Formula is non-GMO, gluten-free, lactose-free, and contains no sugar, sodium, or artificial colors and sweeteners.
DIRECTIONS: FOR ADULTS TAKE ONE (1) TABLET DAILY, PREFERABLY WITH A MEAL.
Supplement Facts
Serving size 1 tablet
Servings Per Container 90
Amount Per Serving
% Daily Value
Vitamin D
(as D3 Cholecalciferol)
157.5 mcg (6,300 IU)
788%
Magnesium
(as Magnesium citrate)
Other Ingredients: Vegetable Cellulose. Contains <2% of: Dicalcium Phosphate, Glycerin, Silica, Vegetable Stearic Acid.
Carefully Manufactured by NATURE'S BOUNTY, INC.Bohemia NY 11716 U.S.A © 2023 Nature's Bounty, Inc.
Innovation, Quality & Commitment
We want more for you. Which is why we never settle when it comes to making wellness solutions that work harder, are formulated to be stronger, and protect you longer.
We give you more so you live more.
MORE INNOVATIONΔ
Immune 24, Sleep3 & innovative wellness solutions for the whole family
MORE PRODUCTS FOR YOUR CORE NEEDSΔ
Support for what matters most—from sleep to stress comfort to digestive and heart health*
MORE THAN 50 YEARS OF EXPERTISE
Half a century of innovation with the help of quality scientists and researchers
MORE INGREDIENT TESTS
That's every single month. We test and retest to bring you potent and efficacious ingredients, guaranteed