Controlled Delivery Probiotic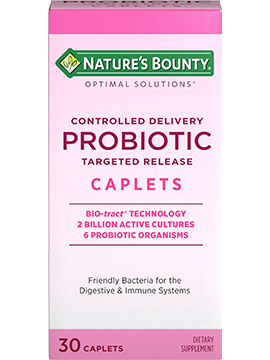 Controlled Delivery Probiotic
30 Caplets
Optimal Solutions® Controlled Delivery Probiotic is an easy way to get the digestive and intestinal support you need.* These caplets feature Bio-tract® technology, which allows the caplet to pass through the digestive tract and release live organisms at targeted locations within the digestive system.
Regular enteric coating protects Probiotics from stomach acid. Controlled Delivery Probiotic works differently than regular enteric coating – it not only protects your probiotics from the harsh environment of the stomach, but delivers them continuously during the day to various parts of your digestive tract!
A large percentage of your body's immune system cells are contained within your gastrointestinal tract. Probiotics help maintain healthy intestinal balance, providing support for immune health.* A healthy digestive tract helps maintain overall immune system health.*
Description & Benefits
Ingredients
Reviews
Optimal Solutions® Controlled Delivery Probiotic is an easy way to get the digestive and intestinal support you need.* These caplets feature Bio-tract® technology, which allows the caplet to pass through the digestive tract and release live organisms at targeted locations within the digestive system.
Regular enteric coating protects Probiotics from stomach acid. Controlled Delivery Probiotic works differently than regular enteric coating – it not only protects your probiotics from the harsh environment of the stomach, but delivers them continuously during the day to various parts of your digestive tract!
A large percentage of your body's immune system cells are contained within your gastrointestinal tract. Probiotics help maintain healthy intestinal balance, providing support for immune health.* A healthy digestive tract helps maintain overall immune system health.*
DIRECTIONS: For adults, take one (1) caplet daily, preferably with a meal.
Supplement Facts
Serving size 1 Caplet
Servings Per Container 30
Amount Per Serving
% Daily Value
Bio-Active Probiotic Complex (2,000,000,000 CFUs**) Lactobacillus plantarum, Lactobacillus acidophilus, Lactobacillus fermentum, Lactobacillus rhamnosus, Bifidobacterium bifidum, Bifidobacterium longum
***Daily Value not established.
LiveBac® and BIO-tract® are registered trademarks of Nutraceutix in the United States (reg. in the name of TNTGamble, Inc.).
Other Ingredients: Vegetable Cellulose, Pectin, Sodium Carbonate. Contains <2% of: Guar Gum, Turmeric (Color), Vegetable Stearic Acid.
WARNING: If you are pregnant, nursing, taking any medications or have any medical condition, consult your doctor before use. Discontinue use and consult your doctor if any adverse reactions occur. Keep out of reach of children. Store unopened container at room temperature. Do not use if seal under cap is broken or missing. Refrigerate after opening.
Non-GMO. No Artificial Flavor or Sweetener, No Preservatives, No Sugar, No Starch, No Soy, No Gluten, No Wheat, No Yeast, No Fish. Suitable for Vegetarians
Carefully Manufactured by NATURE'S BOUNTY, INC.Bohemia NY 11716 U.S.A © 2015 Nature's Bounty, Inc
Innovation, Quality & Commitment
We want more for you. Which is why we never settle when it comes to making wellness solutions that work harder, are formulated to be stronger, and protect you longer.
We give you more so you live more.
MORE INNOVATIONΔ
Immune 24, Sleep3 & innovative wellness solutions for the whole family
MORE PRODUCTS FOR YOUR CORE NEEDSΔ
Support for what matters most—from sleep to stress comfort to digestive and heart health*
MORE THAN 50 YEARS OF EXPERTISE
Half a century of innovation with the help of quality scientists and researchers
MORE INGREDIENT TESTS
That's every single month. We test and retest to bring you potent and efficacious ingredients, guaranteed