Hair, Skin & Nails Biotin and Collagen Gummies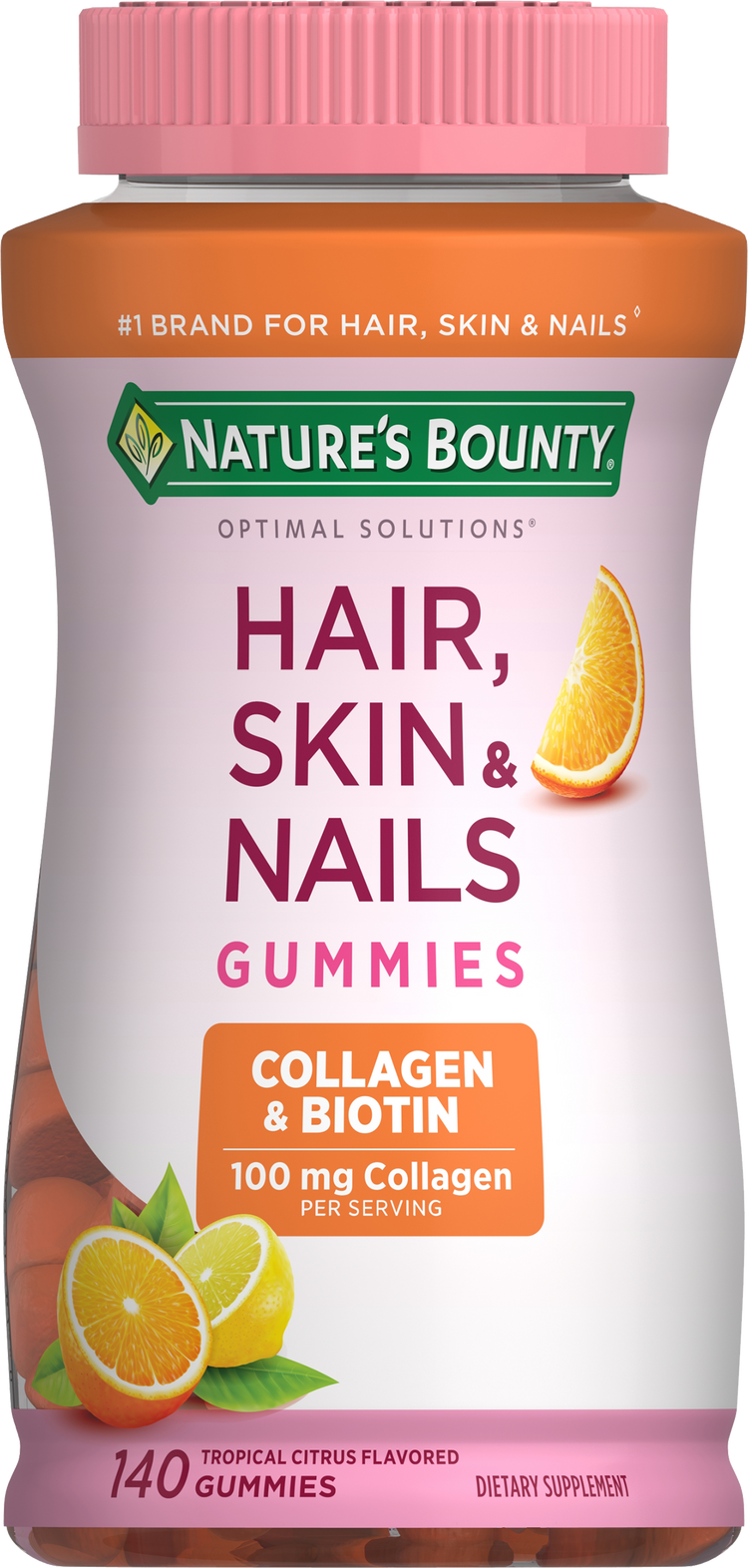 Hair, Skin & Nails Biotin and Collagen Gummies
100mg Collagen, 140 Gummies
Nature's Bounty Hair, Skin & Nails with Biotin and Collagen Gummies are a delicious way to support beautiful hair, glowing skin, and healthy nails from the inside out.◊ Bursting with tasty tropical citrus flavor, each 2 gummy serving contains vital nutrients that are popular among beauty enthusiasts including 100 mg of collagen to support vibrant skin and 2,500 mcg of Biotin helps to maintain healthy hair.◊
Description & Benefits
Ingredients
Reviews
Nature's Bounty Hair, Skin & Nails with Biotin and Collagen Gummies are a delicious way to support beautiful hair, glowing skin, and healthy nails from the inside out.◊ Bursting with tasty tropical citrus flavor, each 2 gummy serving contains vital nutrients that are popular among beauty enthusiasts including 100 mg of collagen to support vibrant skin and 2,500 mcg of Biotin helps to maintain healthy hair.◊ For additional wellness benefits, Nature's Bounty Hair, Skin & Nails with Biotin and Collagen Gummies contain antioxidant vitamins C and E. Vitamin C is involved in collagen production and formation, while Vitamin E contributes to skin health.* By combining the latest breakthroughs in nutritional science with the purest ingredients, Nature's Bounty is proud to provide you with supplements of unsurpassed quality and value. Our unique formula is laboratory-tested and free of milk, lactose, soy, gluten, wheat, yeast, and fish. Support your beauty from within by adding Nature's Bounty Hair, Skin & Nails with Biotin and Collagen Gummies to your daily wellness routine.*
DIRECTIONS:
Supplement Facts
Amount Per Serving
% Daily Value
Other Ingredients:
Innovation, Quality & Commitment
We want more for you. Which is why we never settle when it comes to making wellness solutions that work harder, are formulated to be stronger, and protect you longer.
We give you more so you live more.
MORE INNOVATIONΔ
Immune 24, Sleep3 & innovative wellness solutions for the whole family
MORE PRODUCTS FOR YOUR CORE NEEDSΔ
Support for what matters most—from sleep to stress comfort to digestive and heart health*
MORE THAN 50 YEARS OF EXPERTISE
Half a century of innovation with the help of quality scientists and researchers
MORE INGREDIENT TESTS
That's every single month. We test and retest to bring you potent and efficacious ingredients, guaranteed