Sleep3 Gummies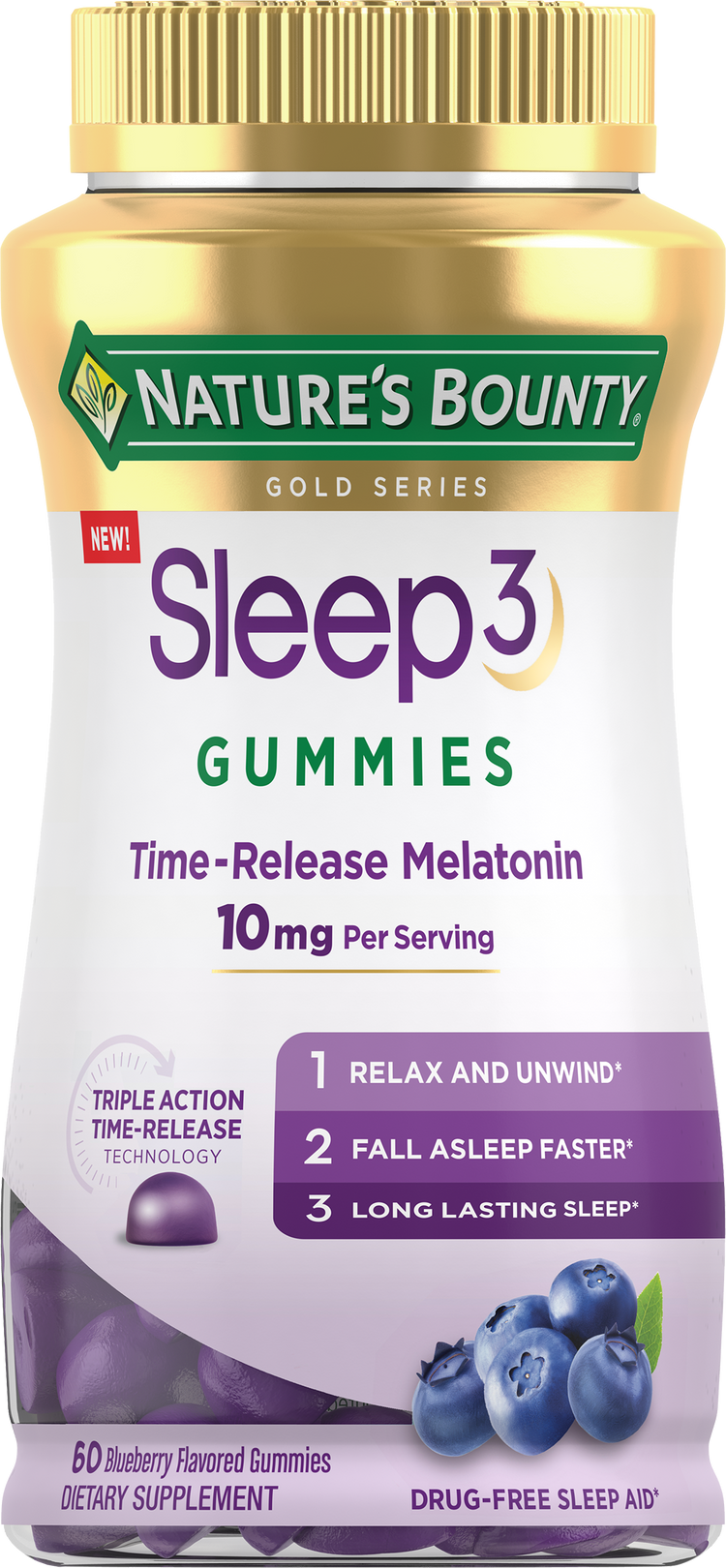 Sleep3 Gummies
10 mg Melatonin, 60 Gummies
Nature's Bounty Sleep3 Gummies are a 100% drug-free, triple action sleep supplement to support those experiencing occasional sleeplessness.* Each serving contains 10 mg of Melatonin, a hormone naturally produced in the body that works with your body's natural sleep cycle to help you fall asleep and stay asleep.* Bursting with tasty blueberry flavor, our unique Sleep3 Gummy formula utilizes patent-pending, triple action time-release melatonin technology to support a good night's rest in three stages.* L-Theanine with Melatonin helps you relax and unwind, quick-release Melatonin helps you fall asleep faster, and time-release Melatonin helps you stay asleep longer so you can wake up feeling refreshed.* Nature's Bounty Sleep3 Gummies  are non-GMO, gluten-free, lactose-free, and contain no artificial flavors or sweeteners. Each bottle contains 60 gummies and can be taken 30 minutes before bedtime to help with occasional sleeplessness or jet lag.*
Description & Benefits
Ingredients
Reviews
Nature's Bounty Sleep3 Gummies are a 100% drug-free, triple action sleep supplement to support those experiencing occasional sleeplessness.* Each serving contains 10 mg of Melatonin, a hormone naturally produced in the body that works with your body's natural sleep cycle to help you fall asleep and stay asleep.* Bursting with tasty blueberry flavor, our unique Sleep3 Gummy formula utilizes patent-pending, triple action time-release melatonin technology to support a good night's rest in three stages.* L-Theanine with Melatonin helps you relax and unwind, quick-release Melatonin helps you fall asleep faster, and time-release Melatonin helps you stay asleep longer so you can wake up feeling refreshed.* Nature's Bounty Sleep3 Gummies  are non-GMO, gluten-free, lactose-free, and contain no artificial flavors or sweeteners. Each bottle contains 60 gummies and can be taken 30 minutes before bedtime to help with occasional sleeplessness or jet lag.*
DIRECTIONS: FOR ADULTS, TAKE TWO (2) GUMMIES 30 MINUTES BEFORE BEDTIME.
Supplement Facts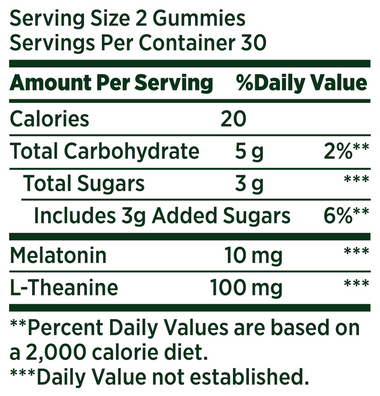 Other Ingredients: Glucose Syrup, Sugar, Modified Food Starch. Contains <2% of: Citric Acid, Natural Flavors, Fruit Juice (Color), Vegetable Oil (Contains Carnauba Wax).
Innovation, Quality & Commitment
We want more for you. Which is why we never settle when it comes to making wellness solutions that work harder, are formulated to be stronger, and protect you longer.
We give you more so you live more.
MORE INNOVATIONΔ
Immune 24, Sleep3 & innovative wellness solutions for the whole family
MORE PRODUCTS FOR YOUR CORE NEEDSΔ
Support for what matters most—from sleep to stress comfort to digestive and heart health*
MORE THAN 50 YEARS OF EXPERTISE
Half a century of innovation with the help of quality scientists and researchers
MORE INGREDIENT TESTS
That's every single month. We test and retest to bring you potent and efficacious ingredients, guaranteed