Sleep3 + Stress Support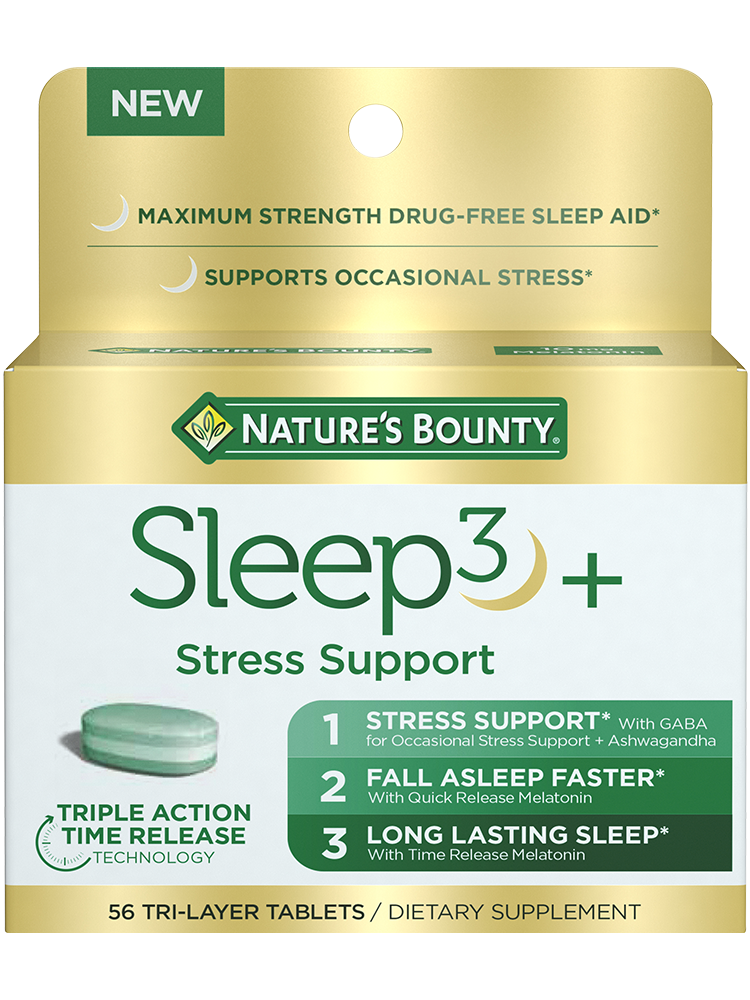 Sleep3 + Stress Support
56 Tablets
Wake up feeling refreshed with Nature's Bounty® Sleep3+ Stress Support!* The First and Only Maximum Strength Tri Layer Sleep+ Stress aid is a triple action supplement that provides support for occasional stress and promotes sound sleep.* Using innovative time-release technology, each layer is dissolved at different times throughout the night to help you relax, de-stress, and get long-lasting sleep.* Melatonin, a key ingredient in this innovative formula, plays a vital role in the maintenance of circadian rhythm "sleep-wake-cycle", sleep induction, and sleep duration plus its perfect for those experiencing occasional sleeplessness.* Sleep3+ Stress Support contains 10 mg of melatonin per serving including both quick release melatonin to help you fall asleep fast, and time-release melatonin that works with your body's natural sleep cycle to help you stay asleep longer while supporting quality restful sleep.* For added stress-relief benefits, Nature's Bounty® Sleep3+ Stress Support also includes 100 mg of GABA to help relax the mind and support occasional stress, plus 60g of Ashwagandha per serving.*
Description & Benefits
Ingredients
Reviews
Wake up feeling refreshed with Nature's Bounty® Sleep3+ Stress Support!* The First and Only Maximum Strength Tri Layer Sleep+ Stress aid is a triple action supplement that provides support for occasional stress and promotes sound sleep.* Using innovative time-release technology, each layer is dissolved at different times throughout the night to help you relax, de-stress, and get long-lasting sleep.* Melatonin, a key ingredient in this innovative formula, plays a vital role in the maintenance of circadian rhythm "sleep-wake-cycle", sleep induction, and sleep duration plus its perfect for those experiencing occasional sleeplessness.* Sleep3+ Stress Support contains 10 mg of melatonin per serving including both quick release melatonin to help you fall asleep fast, and time-release melatonin that works with your body's natural sleep cycle to help you stay asleep longer while supporting quality restful sleep.* For added stress-relief benefits, Nature's Bounty® Sleep3+ Stress Support also includes 100 mg of GABA to help relax the mind and support occasional stress, plus 60g of Ashwagandha per serving.*
DIRECTIONS: For adults, take one (1) tablet 30 minutes before bedtime.
Supplement Facts
Serving size 1 Tablet
Servings Per Container 56
Amount Per Serving
% Daily Value
GABA (Gamma-Aminobutyric Acid)
**Daily Value not established.
Other Ingredients: Dicalcium Phosphate, Vegetable Cellulose, Vegetable Stearic Acid. Contains <2% of: Silica, Spirulina Extract (color), Turmeric Oleoresin (color), Vegetable Glycerin, Vegetable Magnesium Stearate.
WARNING: Not intended for use by pregnant or nursing women. If you are taking any medications or have any medical condition, consult your doctor before use. Discontinue use and consult your doctor if any adverse reactions occur. Do not drive, operate machinery, or consume alcohol when taking this product. Not intended for use by persons under the age of 18. Keep out of reach of children. Store at room temperature. Do not use if blister seal is cut, torn, or open.
Non-GMO, No Artificial Flavor or Sweetener, No Sugar, No Milk, No Lactose, No Soy, No Yeast, No Fish. Sodium Free. Suitable for Vegetarians.
Carefully Manufactured by NATURE'S BOUNTY, INC.Bohemia NY 11716 U.S.A © 2018 Nature's Bounty, Inc
Innovation, Quality & Commitment
We want more for you. Which is why we never settle when it comes to making wellness solutions that work harder, are formulated to be stronger, and protect you longer.
We give you more so you live more.
MORE INNOVATIONΔ
Immune 24, Sleep3 & innovative wellness solutions for the whole family
MORE PRODUCTS FOR YOUR CORE NEEDSΔ
Support for what matters most—from sleep to stress comfort to digestive and heart health*
MORE THAN 50 YEARS OF EXPERTISE
Half a century of innovation with the help of quality scientists and researchers
MORE INGREDIENT TESTS
That's every single month. We test and retest to bring you potent and efficacious ingredients, guaranteed