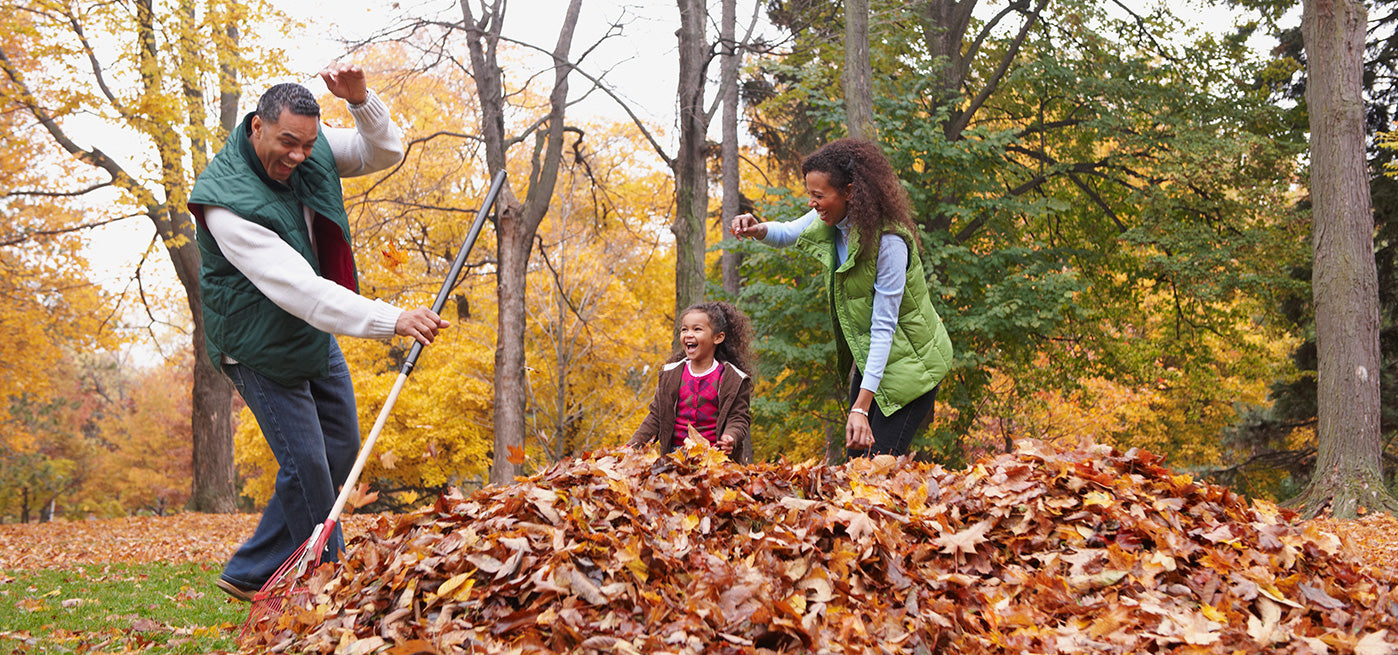 Fall Into an Active Autumn
Stay active this autumn with Nature's Bounty's Vitamin B-12, Nature's Bounty's Energy Gummies and fun fall festivities that are great for the whole family.
There's nothing quite as cozy as a cool autumn afternoon. While its tempting to curl up with warm cider and cheer for your favorite football team, there are plenty of awesome fall activities that double as workouts. To keep your energy levels high as the season starts to change, stay active with these fun fall festivities that will burn calories as you enjoy the beauty of the season. You'll appreciate autumn even more knowing that you'll be Better Off Healthy!

Plan an Orchard Outing:
Whether you want to pluck pumpkins or harvest apples, a day in the orchards is fun for the whole family. Walking up and down the patch to find the perfect pick is a great way to do some cardio. Once you find your favorites and you need to carry them to your car, consider it a strength training workout!

Get Lost (in a good way):
Corn mazes are a great way to challenge your cognitive skills while getting some cardio in. Depending on the course's length and intensity, you'll burn a good amount of calories from all that walking while supporting your heart health in the process!

Rake it or Leave It:
Believe it or not, but raking the leaves is actually a great workout. Burn a ton of calories as you clean up your yard, or create piles for the family to jump in. Either way, this outdoor endeavor is a productive and fun way to celebrate fall while staying active.


Spook Yourself:
If you're a dare-devil, attending a haunted house this season is a great way to stay active and burn some extra calories. While the level of horror you can handle is completely discretionary, choose a course that will spook you slightly. By walking (or running) through a haunted house you'll feel the adrenaline rush through your body as you burn extra calories. Be careful not to choose any attraction site that will scare you to the extreme or put your body in harm's way.

Play Ball:
If you're a fan of watching football, try playing it instead! Grab some friends and head outdoors for a friendly game of touch or flag football. All that running up and down the field is sure to burn a ton of calories, reducing the guilt as you head inside and watch the game with your friends from the couch.

Treat Yourself:
While Halloween is synonymous with candy and sweet treats, these sugary snacks can hinder your energy levels. Instead of reaching for that chocolate, treat yourself to delicious Nature's Bounty® Energy Gummies or Quick Dissolve B-12. Each serving of our watermelon flavored Energy Gummies contain 250 mcg of B-12 along with a unique blend of herbs that support cellular energy levels by aiding in the conversion of food to energy!* In addition, our Quick Dissolve B-12 tablets are a delicious cherry flavor designed to support your cellular energy levels on the go.*

There's nothing quite as exuberant as the fall time. Make the most of the season by keeping your cellular energy levels high and the festivities on your autumn bucket-list checked-off.