Super Papaya Enzyme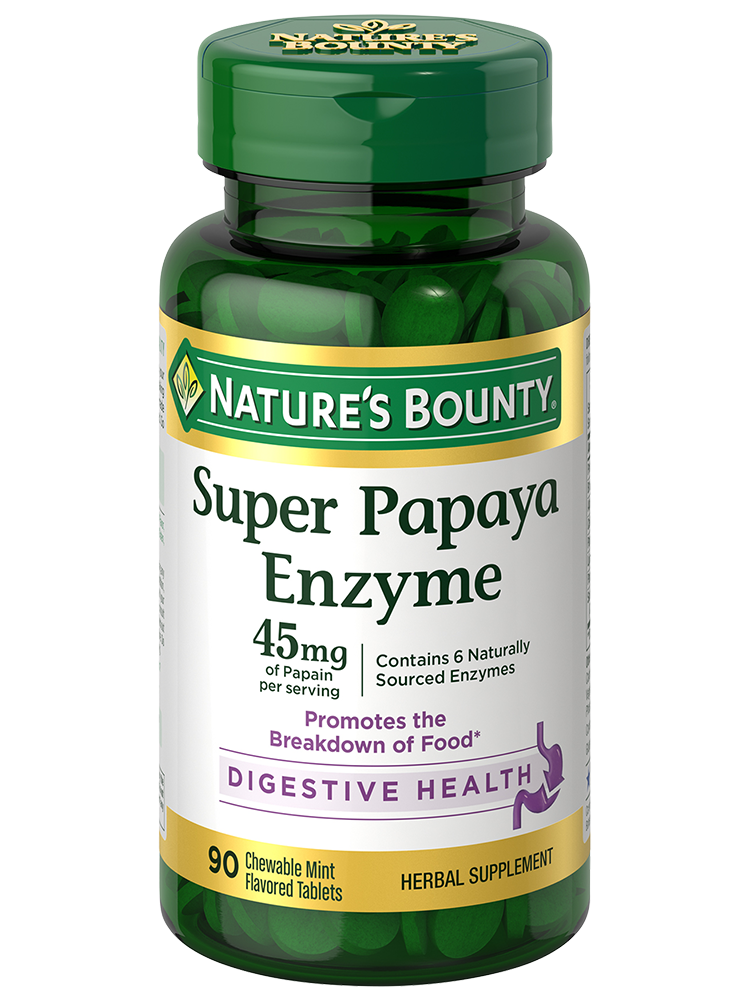 Super Papaya Enzyme
90 Tablets
Support your digestive health with Nature's Bounty® Super Papaya Enzyme tablets.* Each serving contains 15 mg of the finest quality ingredient from Papaya fruit, with 6 naturally sourced enzymes including Protease, Bromelain, Alpha Amylase, Cellulase, Lipase, and 45mg of Papain per serving. These naturally sourced enzymes help aid the digestion of proteins, carbohydrates and fats.* Available in delicious, chewable mint-flavored tablets, our Super Papaya Enzyme supplement is designed to help to promote the breakdown of food and has added Peppermint to help reduce bad taste and sweeten breath.* For optimal digestive benefits, it is recommended that adults chew three (3) Nature's Bounty® Super Papaya Enzyme tablets following a meal, one to three times daily.* The innovative supplement is Non-GMO, free of artificial colors and flavors, and made with the purest ingredients, guaranteed.*
Description & Benefits
Ingredients
Reviews
Support your digestive health with Nature's Bounty® Super Papaya Enzyme tablets.* Each serving contains 15 mg of the finest quality ingredient from Papaya fruit, with 6 naturally sourced enzymes including Protease, Bromelain, Alpha Amylase, Cellulase, Lipase, and 45mg of Papain per serving. These naturally sourced enzymes help aid the digestion of proteins, carbohydrates and fats.* Available in delicious, chewable mint-flavored tablets, our Super Papaya Enzyme supplement is designed to help to promote the breakdown of food and has added Peppermint to help reduce bad taste and sweeten breath.* For optimal digestive benefits, it is recommended that adults chew three (3) Nature's Bounty® Super Papaya Enzyme tablets following a meal, one to three times daily.* The innovative supplement is Non-GMO, free of artificial colors and flavors, and made with the purest ingredients, guaranteed.*
DIRECTIONS: For adults, chew three (3)tablets following a meal, one to three times daily.
Supplement Facts
Serving size 3 Tablets
Servings Per Container 30
Amount Per Serving
% Daily Value
Sodium Copper Chlorophyllin (Chlorophyll)
**Daily Value not established.
Other Ingredients: Sorbitol, Mannitol, Calcium Carbonate, Maltodextrin, Vegetable Stearic Acid, Vegetable Magnesium Stearate, Silica, Dicalcium Phosphate, Oil of Peppermint (mentha piperita) (leaf).
WARNING: If you are pregnant, nursing, taking any medications or have any medical condition, including a known sensitivity to latex, consult your doctor before use. Discontinue use and consult your doctor if any adverse reactions occur. Keep out of reach of children. Store at room temperature. Do not use if seal under cap is broken or missing.
Non-GMO, No Artificial Color, No Artificial Flavor, No Sugar, No Milk, No Lactose, No Soy, No Yeast, No Fish.
Carefully Manufactured by NATURE'S BOUNTY, INC.Bohemia NY 11716 U.S.A © 2023 Nature's Bounty, Inc
Innovation, Quality & Commitment
We want more for you. Which is why we never settle when it comes to making wellness solutions that work harder, are formulated to be stronger, and protect you longer.
We give you more so you live more.
MORE INNOVATIONΔ
Immune 24, Sleep3 & innovative wellness solutions for the whole family
MORE PRODUCTS FOR YOUR CORE NEEDSΔ
Support for what matters most—from sleep to stress comfort to digestive and heart health*
MORE THAN 50 YEARS OF EXPERTISE
Half a century of innovation with the help of quality scientists and researchers
MORE INGREDIENT TESTS
That's every single month. We test and retest to bring you potent and efficacious ingredients, guaranteed