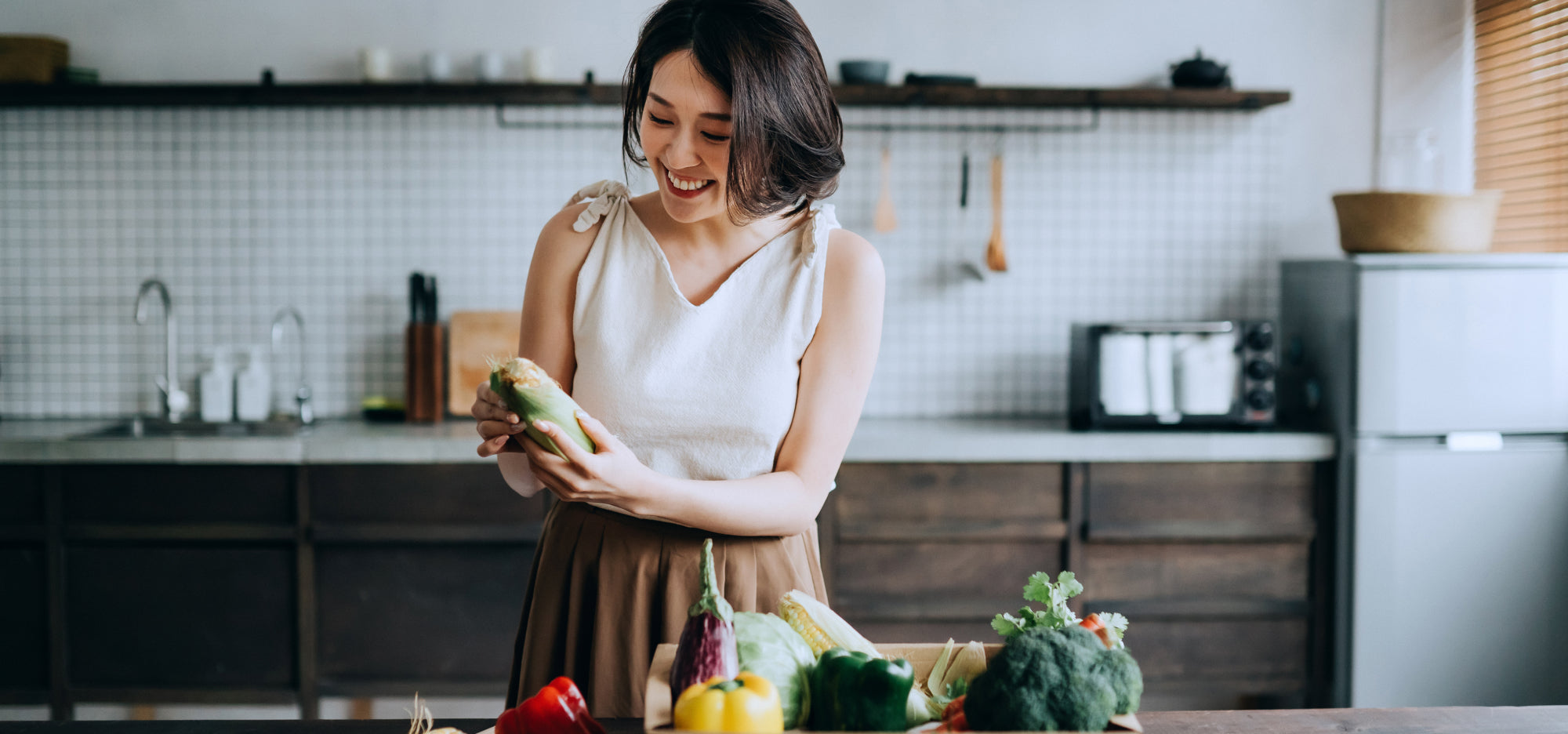 10 Popular Foods that Can Nourish Hair
If luscious locks are your goal, start with what's on your plate. While many factors contribute to hair health, your diet could play an important role in how your hair looks and feels, according to the Mayo Clinic.  
To provide additional vital nutrients for hair aside from your diet alone, consider adding Nature's Bounty® Optimal Solutions® Hair Growth with Advanced Hair Complex to your wellness routine.* Clinically shown to help grow thicker, fuller hair in three months, our convenient one-per-day capsules contain Biotin, Silicon and Arginine: key nutrients for providing structural support for existing hair growth and increased thickness.* 
And to play up your natural beauty, try these 10 popular foods for hair health that may help provide nourishment for healthy hair—and support a healthy you! 
1. Olive oil 
This unsaturated fat is not only considered heart healthy—it's also popularly used to support hair health. And when used topically, olive oil has great moisturizing properties. 
2. Chicken 
Poultry—or fish, shrimp, and other sources of lean protein—may be great for supporting beautiful hair. After all, the hair shaft is primarily comprised of the protein keratin, so making sure you get enough protein in your diet is critical for healthy locks.  
3. Sweet potatoes 
These tasty root vegetables provide a source of Vitamin A. Vitamin A is important for healthy hair. Don't love sweet potatoes? Try pumpkin, carrots, spinach, or kale.  
4. Beef 
Getting enough iron in your diet, such as from red meat, is essential for healthy hair. A lack of iron can even lead to anemia, which is a potential cause of hair loss 
5. Flaxseed 
Flaxseed is a source of Omega-3 fatty acids. Along with Omega-6 fatty acids, Omega-3s may play a role in supporting healthy hair. Other great sources of this nutrient include fish, walnuts, soybean oil, and fortified foods.  
6. Almonds 
Almonds contain Vitamin E, an essential nutrient with antioxidant properties. Antioxidants may help fight free radicals. Free radicals can contribute to oxidative stress, which in turn may contribute to the premature aging of your cells—including those in your hair. 
7. Eggs 
Eggs are a source of Biotin, a water-soluble B vitamin that is essential for hair protein synthesis. Other sources of Biotin include beef liver, salmon, sunflower seeds, and broccoli.    
8. Red pepper 
Red pepper is a great source of Vitamin C, an important antioxidant. Many of your favorite fruits and veggies, from oranges to cauliflower, also  provide Vitamin C—enjoying a fresh and colorful diet is a great way to make sure you get enough of this nutrient.  
9. Spinach 
Spinach contains Zinc, a nutrient that may play a role in the health of your hair follicles. This nutrition powerhouse is also a source of Biotin and other important vitamins, so be sure to sneak more of these leafy greens into your soups and salads.  
10. Lentils 
Besides being a tasty source of protein, lentils contain B vitamins and iron, which may help support healthy hair. Enjoy red, green, or brown lentils as a meat replacement in anything from stews to taco dishes. 
A balanced diet packed with a variety of nutritious foods can help support a healthy body—and that includes your hair! But if you struggle to get enough nutrients from the foods you eat, hair supplements could help bridge the gap by providing nutritional support for thicker, fuller locks.* Learn more about Nature's Bounty® Optimal Solutions® Hair Growth with Advanced Hair Complex.