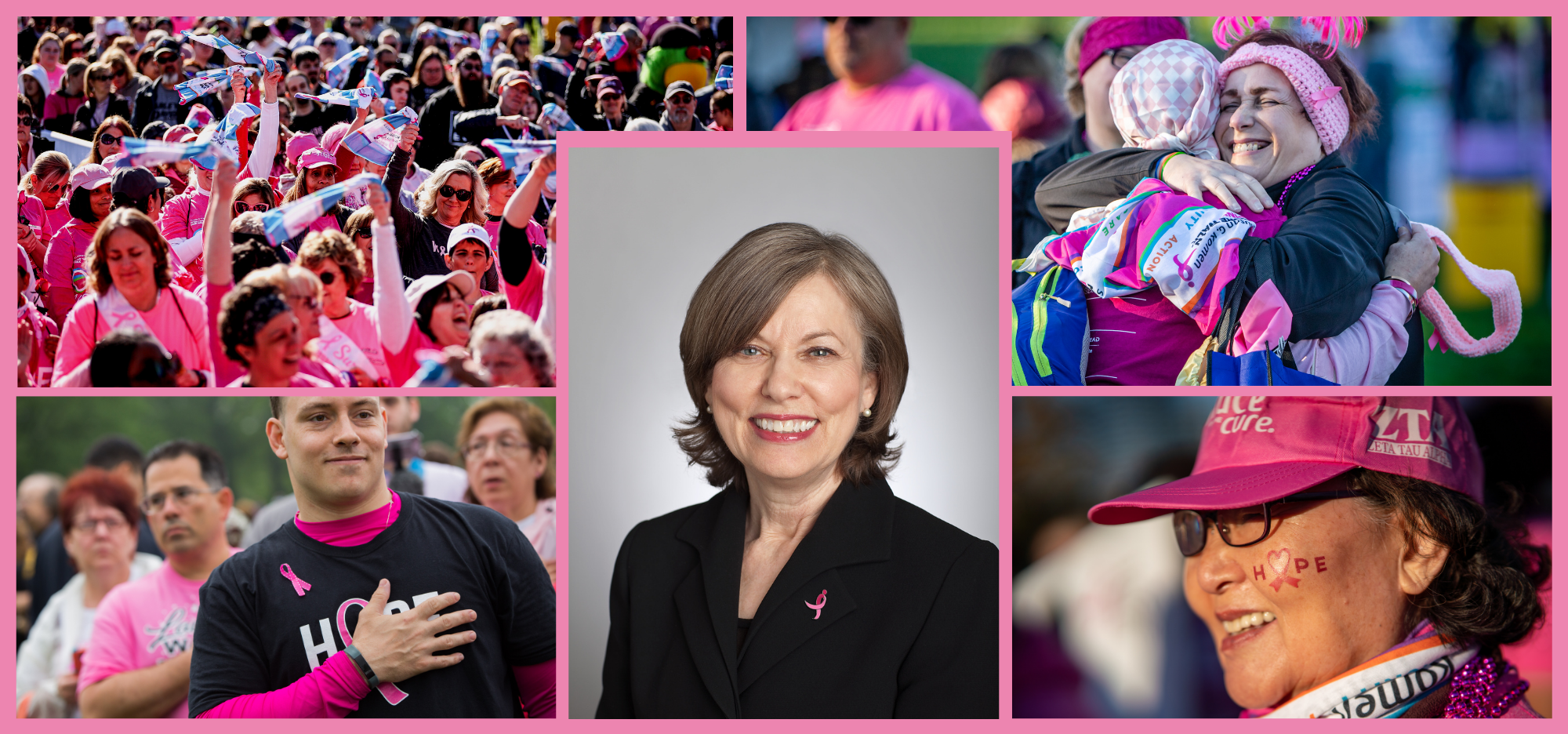 What Women Need to Know About Detecting Breast Cancer Early: An Interview with Susan Brown, M.S., R.N., at Susan G. Komen®
Q&A with Susan Brown, M.S., R.N., senior director Health Information and Publications at Komen.
Breast cancer screening and early detection play an important role in a woman's health. Nature's Bounty® is a proud supporter of Susan G. Komen (Komen) and Race for the Cure to help promote early detection while funding research and providing services for those who need it today.  
We had the opportunity to learn more about early detection from Susan Brown, M.S., R.N., senior director Health Information and Publications at Komen.   
NB: We see you've been with Komen for more than 20 years. In your years of experience, what is the number one piece of advice you'd give to women about early detection of breast cancer?  
 
SB: Breast cancer screening tests can help find breast cancer at an early stage when the chances of survival are highest, so my advice focuses on four key actions: 
Talk with your health care provider to understand your risk of developing breast cancer, 

Talk with your health care provider about the screening tests that are right for you based on your risk, and then get screened according to that plan,  

 

Know what's normal for you, so you can track changes in your breasts and underarm areas, and when you notice changes, see your health care provider, and 

 

Make healthy lifestyle choices that may help reduce your risk of breast cancer, including exercising regularly, maintaining a healthy weight, limiting alcohol intake, among

other healthy lifestyle choices

.  

 
NB: We know breast cancer education is focused on early detection through mammography screening and changes in how your breasts or underarm areas look or feel. Could changes in the skin of the breasts be a sign of breast cancer? If so, what should women look for on their skin? 
SB: Changes in the skin can be a warning sign too. Women should be alert to these signs and symptoms in addition to the more commonly known sign of a breast lump. Any change in the breast or underarm should be reported to your health care provider. 
Lump, hard knot, or thickening

 inside the breast or underarm area  

 

Swelling, warmth, redness, or darkening of the breast 

 

Change in the size or shape of the breast

Dimpling or puckering of the skin 

 

Itchy, scaly sore, or rash on the nipple 

 

Pulling in of the nipple or other parts of the breast 

 

Nipple discharge that starts suddenly 

New pain in one spot that doesn't go away 

 
The Susan G. Komen website is a great resource to better understand the warning signs and symptoms of breast cancer. 
NB: When should a woman contact their health care provider about changes they see or feel in or on their breasts?  
SB: If a woman (or man) sees or feels any changes in their breasts or underarm areas, they should contact a doctor and make an appointment to get the area checked. Of course, if you see or feel a change in your breast, it's normal to be concerned, but it doesn't mean you have breast cancer. It means you have a change in your breast that needs to be evaluated by a doctor. The doctor may suggest follow-up tests to explain the change.  
NB: Is there anything else women should know about breast cancer detection/screenings?  
SB: Mammography screening provides an opportunity to find breast cancer early, for most women, years before a change is noted clinically. However, it isn't a perfect test, which is why it's important for women to also know the warning signs of breast cancer and report any change to a health care provider. Sometimes a screening test, either a mammogram or a breast exam by a doctor, detects an area of concern that may lead to more tests necessary to rule out or diagnose breast cancer. Whether it's your first mammogram or you want to learn more about follow-up tests after an abnormal finding, Komen has resources that help explain these tests.  
More early detection and self-awareness tips are available from Komen.  
As a part of Nature's Bounty's commitment to helping fund research and care services for those with breast cancer, the brand is donating $0.50 for every bottle* of Nature's Bounty® Optimal Solutions Hair, Skin, Nails Gummies purchased between August 18, 2023 and November 19, 2023 to Susan G. Komen.  
*Donations are for each specially marked product sold in select retailers. Together with other program initiatives, Nature's Bounty will make an aggregate guaranteed minimum donation of $300,000 to Komen, not to exceed $350,000.