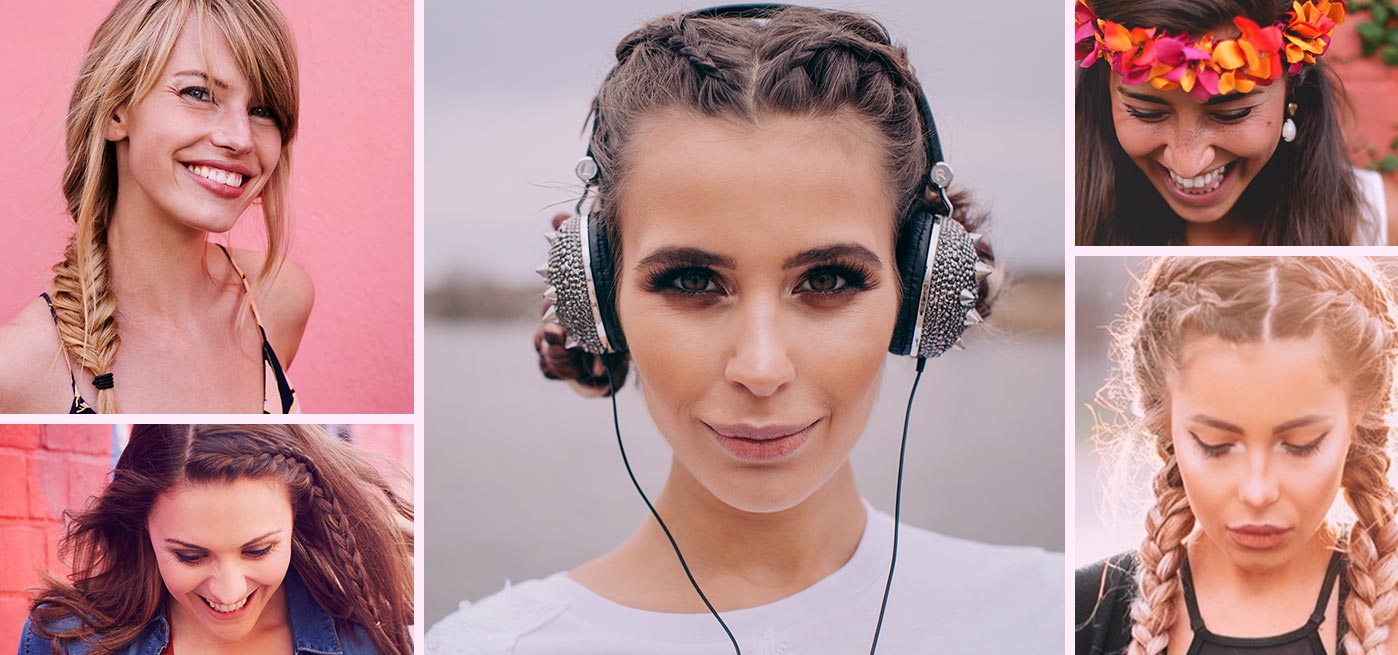 Your Go-To Guide for Festival Ready Hair
Get ready for festival season with these easy hairstyles and go-to products to help you achieve gorgeous, event-ready hair.
From intricate braids to pops of temporary color, when it comes to festival season hairstyles, there's no better time to step outside of your comfort zone and try something new! Whether you plan on taking a risk or sticking to your signature style, there are a few products you'll want to have on hand to keep your locks looking as gorgeous as possible and to keep your beauty supported from the inside, out.*

Festival Style: Dutch Braids
Go-To Product: Extra-strength hairspray
Dutch braids are a fun way to keep your strands in place while still looking super chic. The functional hairstyle can withstand sweat, heat, and humidity, making it an ideal look for any festival goer. We recommend spritzing your tresses with some extra strength hairspray to prevent your braids from coming undone as you dance the day away. As an added bonus, if you go to sleep with this style, you'll wakeup with beautiful boho beach waves for day two of the festival!

Festival Style: Boho Beach Waves
Go-To Product: Texturizing Sea Salt Spray
Whether you braid your hair the night before or style your locks this way to begin with, texturizing sea salt spray will be your go-to product for achieving effortless boho beach waves. For the best results, we recommend spritzing your product into slightly damp hair and tousling your tresses.

Festival Style: Flower Crown
Go-To Product: Leave-In Conditioner (+ Fresh Flowers)
Flower crowns and floral accessories are extremely popular at every music festival. While your main accessories are going to be the blooming roses or fresh sunflowers that frame your face, some leave-in conditioner will help keep your hair soft and gorgeous. Since this look is all about embracing nature, keeping your strands styled as simple as possible will make a subtle-yet-stunning statement.

Festival Style: Half-Up Top Knot
Go-To Product: Dry Shampoo
Dry shampoo is a must for festival season as it allows you to go a little longer between washes. One look we're loving this year is the half-up/ half-down top-knot. If your strands are starting to feel a little oily at the roots, spray some dry shampoo and then gather the top half of your hair into a high bun. The chic style gives you some extra volume while keeping unwanted strands out of your face so it's a win-win for everyone.

Festival Style: Glitter Roots
Go-To Product: Strong Hold Hair Gel + Glitter
If you want to make a statement this festival season, start by sprinkling your part with some sparkles because glitter roots are all the rage right now. This stand-out style looks gorgeous when done correctly, but you'll need a ton of strong-hold hair gel (and glitter of course) to pull it off. Whether you want to rock a middle part with two buns, or add some sparkle to your braids, the possibilities are endless. Your bathroom sink might be left with glitter-galore, but the finished result is worth it.


No matter which style you plan on rocking, it's important to remember that maintaining gorgeous hair starts with having a healthy foundation. Whether your hair is curly, straight, long or short, there's nothing more stunning than seeing someone embrace their natural beauty. Nature's Bounty® Hair, Skin & Nails gummies and softgels contain key vitamins and nutrients to support lustrous locks, making them the basis for any look!*

Which festival season hairstyle are you most excited to try? Share your photos with us using the hashtag #NaturesBountyBeauty so we can see how they turn out!