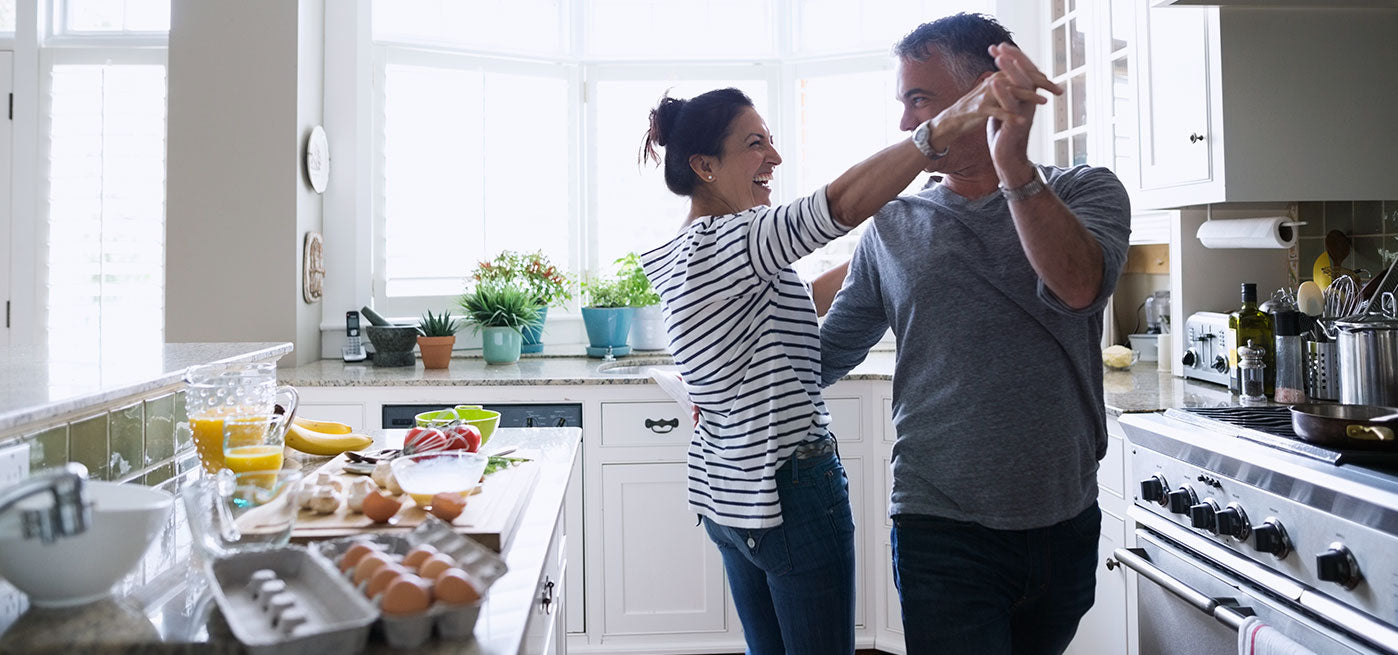 Simple Heart Healthy Steps for You and Your Sweetheart
Simple heart-healthy tips for couples in honor of Heart Health month.
"Roses are red, violets are blue, heart-healthy living is more fun for two. "
From stuffed bears and love poems, to roses and postcards, it's clear that love is in the air. However, it's important to remember that February is also American Heart Health month! Rather than filling up on high-sodium meals and sugary sweets, try to focus on improving your overall wellness as a couple. Here are some simple steps you and your sweetheart can take to support your heart health this Valentine's Day (and all year long!)
Turn Up the Heat:
Cooking a delicious and nutritious meal with your significant other is a lot more fun than going to a crowded restaurant on Valentine's Day. By preparing your own food at home you have total control over the ingredients used and the amount of sodium sprinkled in. Try making this heart healthy recipe for a meal that will satisfy your taste buds and your loved one's heart. Once you realize that eating healthy can be scrumptious, encourage each other to eat a low sodium diet rich in good fats, whole grains, lean protein, fruits and vegetables.
Cuddle Up:
Sleeping at least 7 to 8 hours per night is crucial for your overall wellness, especially when it comes to heart health. Studies show that if you don't catch enough Z's, you may be at a higher risk for cardiovascular disease. To promote a sound slumber, make sure you and your significant other are adhering to a similar bedtime each night. When you both go to sleep at the same time your circadian rhythm, the internal body clock that regulates many physiological processes, is synced with your partners which can help support your heart health.
Get Physical:
With so many heart-healthy benefits, working out should be a priority for you and your significant other. Whether you prefer to hit the gym or take long romantic strolls with one another, making sure you get at least 30 minutes of physical activity per day can help improve your cardiovascular health, reduce cholesterol, and strengthen your heart. As a muscle, it needs exercise in order to pump blood more efficiently. If you struggle with motivation, choose a workout that you and your partner will both enjoy to make it more exciting.
Indulge in The Dark:
Did you know that indulging (in moderation) can actually support your heart health? If you enjoy a glass of wine or a morsel of chocolate from time to time, always choose the darker option. Red wines contain antioxidants called polyphenols, as well as a substance called resveratrol that has been shown to support cardiovascular health. Additionally, if you're thinking of getting something sweet for your sweetheart, go with dark chocolate instead of milk. Dark Chocolate contains flavanols and antioxidants which can support heart health when consumed in moderation. Look for labels that have a cocoa content of 70% or higher for the most health benefits.
Find your Perfect Match:
Your heart is responsible for the pumping of nutrients; it deserves the best supplementation to do its job. You and your sweetheart may have different health needs, which is why we have a wide variety of heart-health supplements. Nature's Bounty® Co Q-10 is an antioxidant that helps fight cell-damaging free radicals in the body.* Nature's Bounty Fish Oil contains EPA and DHA, two Omega-3 fatty acids that help support and maintain the health of your cardiovascular system*, and may reduce the risk of coronary heart disease.** Click here to explore all of our heart health supplements and find the perfect match for you and your loved ones. *